The 4th Annual Breathe Benefit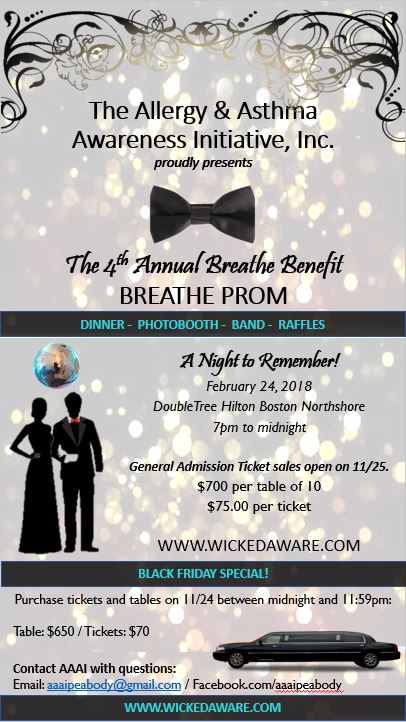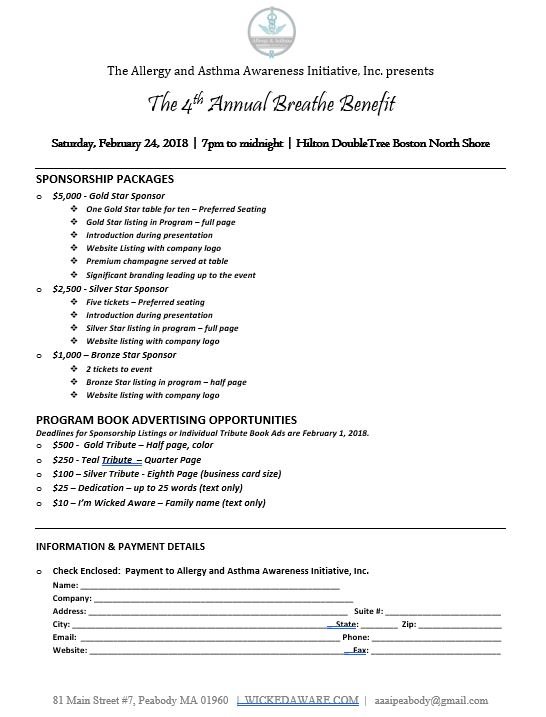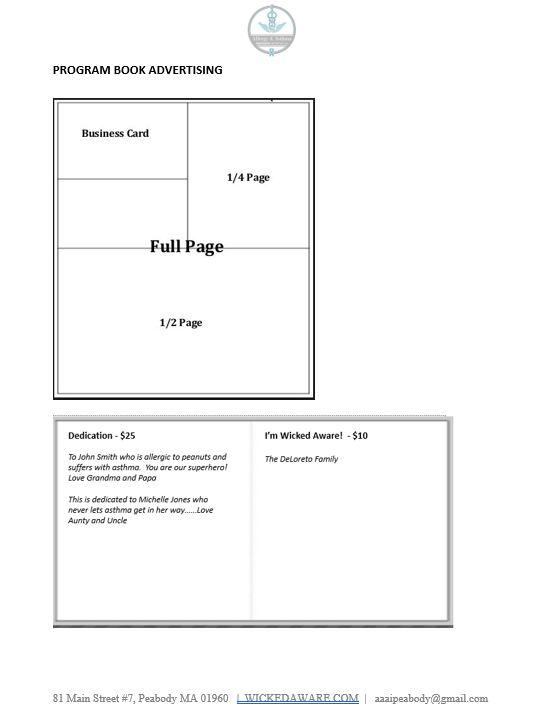 Access the Printable PDF here:  https://www.wickedaware.com/wp-content/uploads/2017/11/AAAI-Benefit-solication-letter-Donation-Letter_Update_2018.pdf
We hope that your 2017 has been filled with happiness and health! Our organization has been busy raising awareness and educating others about food allergies and asthma.
Our 4th Annual Breathe Benefit for a cure for food allergies, asthma and food intolerance will take place on February 24th, 2018! Last year, we moved the location to the DoubleTree by Hilton Boston North Shore to accommodate an increased number of guests. We were very happy with the outcome and we have booked the venue once again for 2018!
We'd like to share a few of our accomplishments with you:
• Donated over $30,000 (since 2014) to Boston Children's Hospital's Allergy and Asthma Research programs
• Proposed a Pilot Program to local First Responders to carry epinephrine with planning to begin in 2018
• Organized the 1st Annual Wicked Aware 5K Spooky Sprint which took place on Oct. 29 and raised $2,000 to fund First Responder Pilot Program
• Secured the trademark "I'm Wicked Aware" as our organization's slogan
• Collaborated with FARE in May to discuss Food allergy laws and legislation on Beacon Hill at the State House in Massachusetts
• Joined the North Shore Navigators for Food Allergy day at Frasier Field
• Promoted FAREs Teal Pumpkin Project
• Presented two scholarships to graduating seniors of the class of 2017 who have lived with allergies and asthma
• Celebrated Allergy Awareness Month in May with the AWARE50 Campaign
We still have so much work to do. In 2018, we will work to design and pilot the First Responder Epi-Pen Program. We plan to continue to provide funding to Boston Children's Hospital and devote more time on research and education around food allergies and asthma. Our work will continue at the State level to move bills pertaining to epinephrine and food allergy awareness through legislation.
We are asking our favorite businesses for donations for raffles and silent auction items so that we can raise as much money as possible and raise as much awareness as we possibly can around food allergies and asthma. Please contact AAAI, Inc. by email at aaaipeabody@gmail.com if there are other ways in which you would like to get involved. Sponsorship opportunities are available for this event! Visit our website at wickedaware.com for details.
On behalf of the AAAI, Inc., we want to thank you for your continued support and hope you will consider supporting the Breathe Benefit this year.
Sincerely,
Kristie M. DeLoreto
Founder/Chairperson
The Asthma & Allergy Awareness Initiative, Inc.(AAAI)
Visit us at wickedaware.com to learn more about the Breathe Benefit and AAAI, Inc.
All donations are tax deductible. Tax ID #: 47-2892047